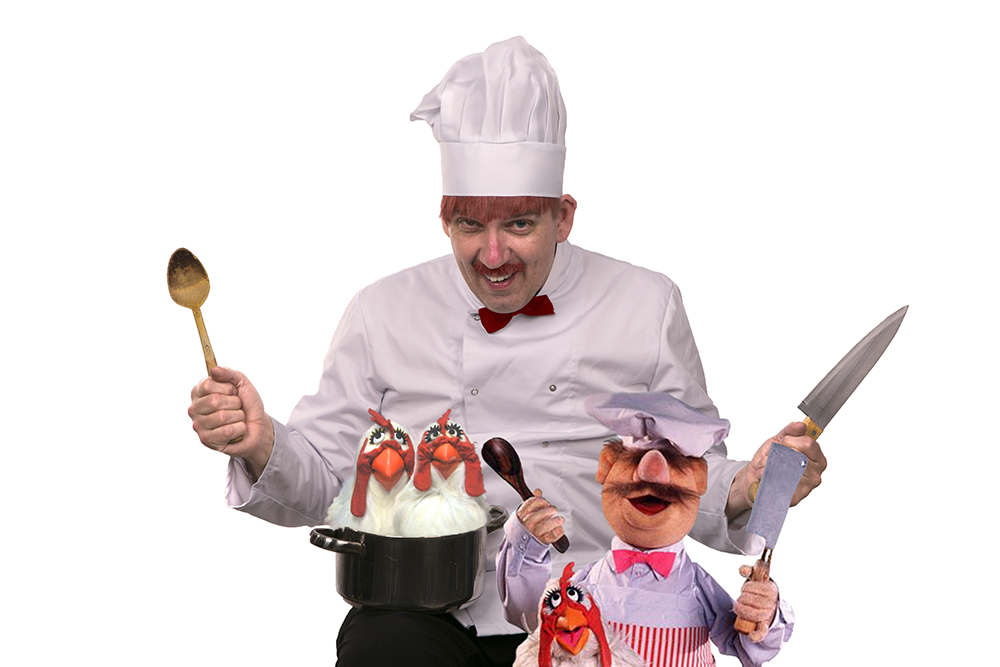 The Swedish Chef is a Muppet character that appeared on The Muppet Show. He was originally performed by Jim Henson and Frank Oz simultaneously, with Henson performing the head and voice and Oz performing the character's live hands. The Swedish Chef is currently performed by Bill Barretta.
A parody of television chefs, the Swedish Chef wears a toque blanche and has bushy eyebrows that completely obscure his eyes. He was one of the few Muppets to employ an actual puppeteer's hands, originally Oz's, in the designs – that is, they were visible to the audience through his sleeves and facilitated handling food and utensils.
Nearly all Swedish Chef sketches on The Muppet Show begin featuring him within a kitchen environment, waving some utensils while singing his signature yodel-esque song in his typical mockSwedish – a semi-comprehensible gibberish mimicking Swedish phonology and prosody. The song's lyrics vary slightly from one episode to the next, but always end with "Bork, bork, bork!" as the Chef throws the utensils (or whatever else may be in his hands) aside with a clatter that seems to startle him.
After this introduction, the Chef begins to prepare a recipe while giving a gibberish explanation of what he is doing. His commentary is spiced with the occasional English word to clue in the viewer to what he is attempting; for example, "Aweenda shmure da froog's legs" or "Yur puurt thuur chiir-ken airn der bewl". These hints are necessary as he frequently uses unorthodox culinary equipment (firearms, sports equipment, hand tools, etc.) to prepare his dishes. In the pilot episode of The Muppet Show, the Chef's commentary was supplemented by Chinese subtitles but this was abandoned for all other episodes of the series. The sketch typically degenerates into a slapstick finale where the equipment or ingredients (usually a live chicken/goat/cow etc.) get the better of him.