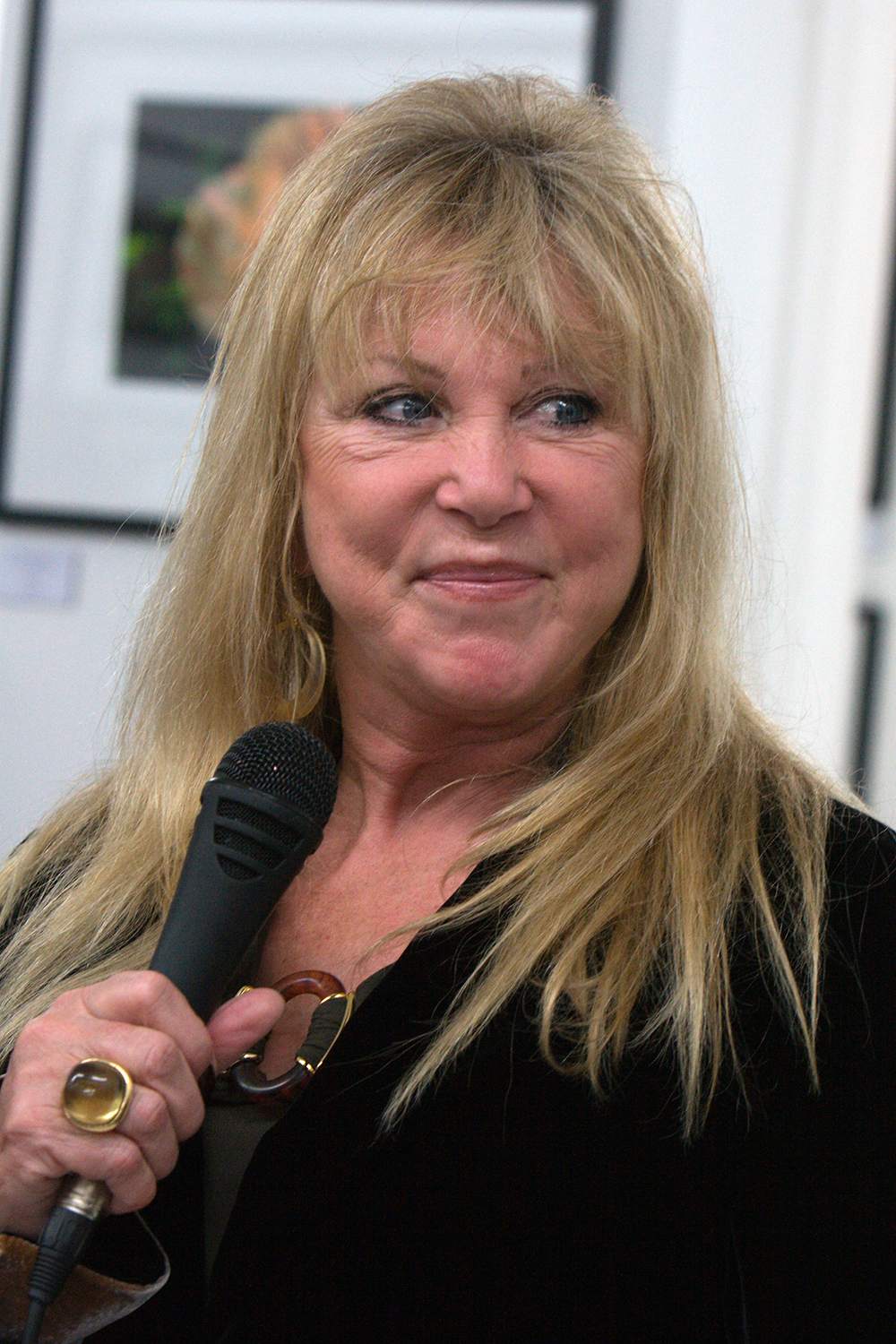 Patricia Anne "Pattie" Boyd (born 17 March 1944) is a model, photographer and author from the United Kingdom. She was the first wife of both George Harrison and Eric Clapton. In August 2007, she published her autobiography Wonderful Tonight. Her photographs of Harrison and Clapton, titled Through the Eye of a Musehave been exhibited in Dublin, Sydney, Toronto, Moscow, London and throughout the United States.
Marriage to George Harrison
In 1964, Boyd met Harrison during the filming of A Hard Day's Night, in which she was cast as a schoolgirl. Her only line in the film was asking "Prisoners?", but she later appeared in the "I Should Have Known Better" segment. Boyd was "semi-engaged" to photographer Eric Swayne at the time, thus declining a date proposal from Harrison. Several days later, after ending her relationship with Swayne, she went back to work on the film and Harrison asked her out on a date for a second time. The couple went to a private gentlemen's club called the Garrick Club, chaperoned by the Beatles' manager, Brian Epstein. According to Boyd, one of the first things Harrison said to her on the film set was: "Will you marry me? Well, if you won't marry me, will you have dinner with me tonight?"
Boyd had her first encounter with LSD in early 1965 when the couple's dentist, John Riley,secretly laced her coffee with the drug during a dinner party at his home. As she was getting ready to leave with Harrison, John and Cynthia Lennon, Riley told them that he had spiked their drinks and tried to convince them to stay. Outside, Boyd was in an agitated state from the drug and threatened to break a store window, but Harrison pulled her away. Later, when Boyd and her group were in an elevator on their way up to the Ad Lib club, they mistakenly believed it was on fire.
Later that year, Boyd moved into Kinfauns with Harrison. The couple were engaged on 25 December 1965, and married on 21 January 1966, in a ceremony at aregistry office in Ashley Road, Epsom, with Paul McCartney as best man. Later, the couple went on a honeymoon in Barbados. In September, Boyd flew with Harrison to Bombay to visit sitar virtuoso Ravi Shankar, before returning to London on 23 October 1966. The following year, Boyd attended the Our World broadcast of "All You Need Is Love". Through her interest in Eastern mysticism and her membership in the Spiritual Regeneration Movement, she inspired all four Beatles to meet the Indian mystic Maharishi Mahesh Yogi in London on 24 August 1967, which resulted in a visit to the Maharishi's seminar in Bangor, the following day. Boyd accompanied Harrison on the Beatles' visit to the Maharishi's ashram in Rishikesh, India, in February 1968. In March 1970, Boyd moved with Harrison from Kinfauns to Friar Park, a Victorian neo-Gothic mansion, in Henley-on-Thames.
In 1973, Boyd's marriage to Harrison began to fail and she had an affair with Faces guitarist Ronnie Wood. She separated from Harrison in 1974 and their divorce was finalised on 9 June 1977. Boyd said her decision to end their marriage and leave Harrison was based largely on his repeated infidelities, culminating in an affair with Ringo Starr's wife Maureen, which Boyd called "the final straw". Boyd characterised the last year of her marriage as "fuelled by alcohol and cocaine", and claimed "George used coke excessively, and I think it changed him … it froze his emotions and hardened his heart." According to Boyd, Harrison's songs "I Need You" and "Something" were written for her.
Marriage to Eric Clapton
In the late 1960s, Clapton and Harrison became close friends, and began writing and recording music together. At this time Clapton fell in love with Boyd. His 1970 album with Derek and the Dominos, Layla and Other Assorted Love Songs, was written to proclaim his love for her, particularly the hit song "Layla". When Boyd rebuffed his advances late that year, Clapton descended into heroin addiction and self-imposed exile for three years. Boyd moved in with Clapton and married him in 1979. Her struggles within the marriage were masked by her public image with Clapton. Boyd drank and admits to past drug use, she became a drug addict like Clapton did. Boyd left Clapton in September 1984, and divorced him in 1988. Her stated reasons were Clapton's years of alcoholism, as well as his numerous affairs including one with Italian model Lory Del Santo. In 1989, her divorce was granted on the grounds of "infidelity and unreasonable behaviour". Boyd believes she was the inspiration for the songs: "Bell Bottom Blues" and "Wonderful Tonight".